2022 EHPC Hurricane Communication and Information Sharing Exercise
Sign up at: https://terms.ncem.gov/TRS/courseDesc.do?sourcePage=courseSearch&cofId=140121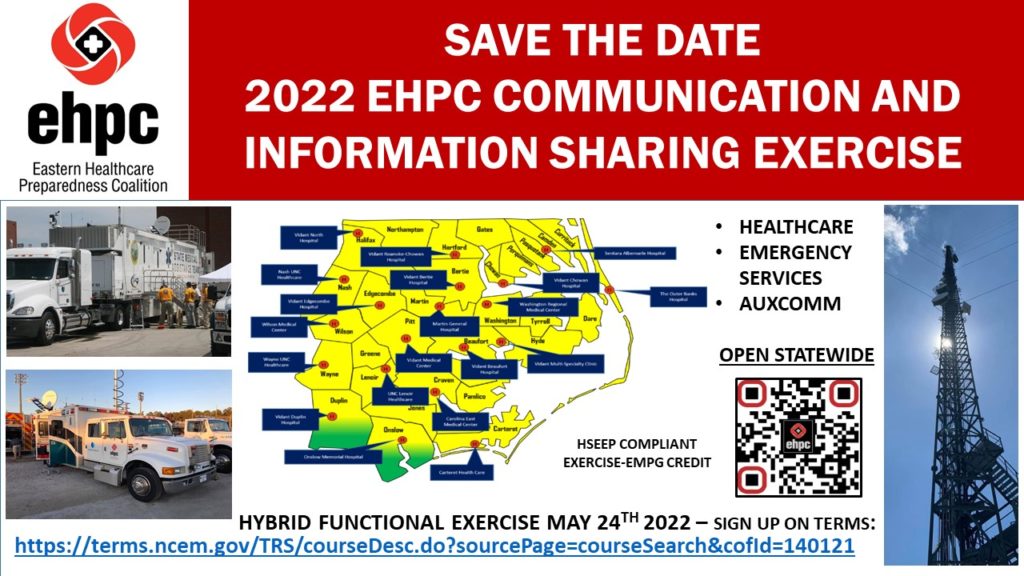 EHPC Functional Communication Exercise (COMMEX)
This exercise is sponsored by the Eastern Healthcare Preparedness Coalition (EHPC) in conjunction with partnering agencies. This is a yearly exercise conducted in the May timeframe to test and prepare for the upcoming hurricane season. This is a hybrid type exercise where players will operate from their home base, team, and local EOC or regional RCC. Exercise control and facilitators will be available remotely to help guide and provide assistance during the event. This is an HSEEP compliant exercise and agencies can receive EMPG credit for participation.
The main goals of the exercise is to test redundant layers of communication tools and ensure they are operational for hurricane season and general preparedness. The following are major testing components of the exercise:
Radio Exercise: NC VIPER, Auxiliary Communications (AUXCOMM), Legacy systems, Local radio systems, Satellite voice including MSAT
Information Sharing Platforms (Voice and Data): Internet, Phone, Satellite data, Auxiliary Communications Data, WebEOC, ReadyOp, NCTERMS and supplemental platforms.
Participants/agencies will be given a variety of objectives to complete in the timeframe allotted. Objectives are based on "lanes" or the disciplines. Public Safety (Fire, EMS, LE) will have specific objectives to complete. Healthcare agencies will have a separate list of objectives to complete. Auxiliary Communications will have a separate objective list to complete.
Agencies are encouraged to work from their home base, EOC or regional coordination center during the exercise. Teams wishing to advance their experience have to option to deploy downrange to a target location and complete the objectives assigned. Teams wishing this option will need to coordinate with the exercise director ahead of time for proper assigning.
In order to obtain credit for this exercise, players must participate in the Briefing, Hotwash and complete a minimum amount of objectives. This exercise is meant to challenge real life problems based on your discipline. We encourage players to download the EHPC mobile app on IOS/Android and ensure all log in credentials are current for WebEOC (if you have access).
Exercise documents will be sent out to participants ahead of the exercise outlining the flow and general plan for the event
This exercise is open statewide to all emergency services partners and Auxiliary Communication personnel